100% Result, Once Again!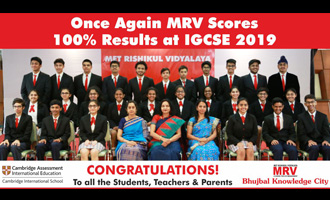 In a proud moment for MET Rishikul Vidyalaya, Grade 10th students who appeared for Cambridge IGCSE exams have cleared their final exams with flying colors. The MRV students, teachers and parents have strived together all through the year, and once again achieved 100% School Results at the IGCSE 2019. It is the dedication, diligence and hard work of the students that has made this huge success possible. With 47 - A* (above 90%) and 66 - A (above 80%) subject grades in a batch of 27 students, the success looks even more glorious.
Kudos to all the MRV students, teachers and parents!
Tags: MET Rishikul Vidyalaya