Anandvan 2018-19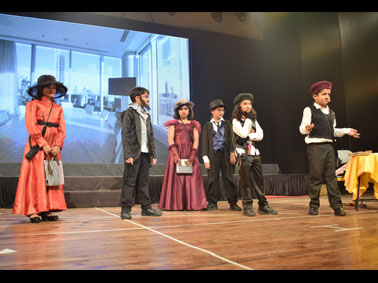 MET Rishikul Vidyalaya's Anandvan, 2018-19 held on 10th Dec, 2018 was a powerful and impactful event. The event was graced by Hon. Founder Chairman - MET, Chhagan Bhujbal, Trustees Mr. Pankaj Bhujbal & Mr. Samir Bhujbal, Director - MRV, Dr. Arundhati Hoskeri and Principal - MRV, Dr. G. Nagashree.
The afternoon began with an instrumental piece, brilliantly played by MRV's young musicians, on the theme war and peace that stirred emotions and created an energetic atmosphere. 'Change for a Change' was the central theme of Primary section while the students of Secondary section, through their performance of the play 'Ode to Mulan', created awareness about women empowerment and feminism. Adhering to the theme, a musical extravaganza based on Charles Darwin's 'Theory of Evolution' was also exhibited by the talented students of MET Rishikul Vidyalaya. The audience was enthralled with the energetic dances and stellar performances of students.
Anandvan concluded with a spectacular fashion show by students of Grade X batch of 2018-19. These students have bloomed into young confident learners from young toddlers when they had joined MRV. A surprise performance by the teachers and staff expressed school's appreciation towards this long association between Grade X students and the school.
Tags: MET Rishikul Vidyalaya