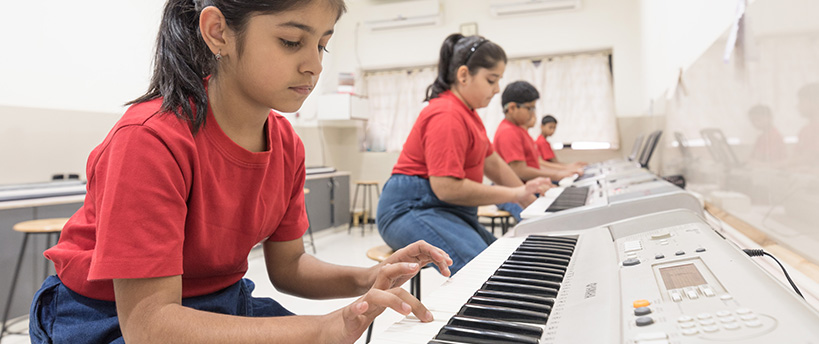 MRV offers the Cambridge Primary programme, for 5-10 year olds. This curriculum framework enables the development of English, Mathematics and Science skills, knowledge and understanding in young learners.
Our primary section received the Cambridge affiliation in June 2012. Cambridge International Primary School Programme aids identification of a learner's strengths to support learning and all round development. It provides the learner with excellent preparation so she/he can progress seamlessly into Cambridge Secondary 1.
As an international programme, Cambridge Primary provides teachers with an external benchmark for their teaching and measures the learner's progress over time. It also enables detailed and structured reporting to parents.
The core strength of Cambridge International is delivered to our student as we build the conceptual understanding of the three core subjects - English, Maths and Science through consistent cognitive scaffolding.
Additional languages like Hindi, Marathi and French & Sanskrit (Grade 1 & 2 only) are also taken through the natural language gradation process with age appropriate activities beginning with listening and speaking skills at early primary years and then moving on to reading and writing.
Thinking Skills sessions are conducted by our expert visiting teachers. These sessions include activities to improve thinking skills of students as well as to check their thinking ability for different aspects. It encompasses activities related to hand skills, observational skills, memory and recall skills, mathematical skills, logical thinking and interpretation, behavioral skills, etc.
Our strength at MRV is the exposure we give our students through Humanities (Social and Environmental studies) by initially gauging their prior knowledge about the local environment and thus progressing from national to international concepts.
At the end of the primary years, we offer a solid groundwork for exploring World History and Geography through the Indian lens.
Thus our young learner begins the journey at MRV from 'Indian Roots' and faces the world equipped with 'Global Wings' through regular field trips and hands-on learning engagements which give them first hand information. This helps a learner to make connections and draw conclusions about wider global issues.
At MRV the learners and their facilitators together travel this educational journey as we aim to develop a clan of thinking, independent and sensitive global citizens who 'Think Global and Act Local'.
Assessments
It is an ongoing process at MRV as it enables the teachers to modify the teaching and learning process to suit the needs of each learner. We follow the continuous formative assessment at Grade 1 to 4 which is an amalgamation of observation, skill tests, orals, projects and paper pencil tests. Languages are assessed through the essential linguistic gradation based on the skills-listening, speaking, reading, writing and usage. Internal assessments are a year long process wherein the children are subtly assessed without the pressures of the term EXAMINATION.
Skill Building
It is emphasised through seven core skills - Critical Thinking, Problem Solving, Communication and Collaboration, Self-Management, Creativity and Imagination, Digital Literacy and Inter-personal skills. These are developed through various curricular and co-curricular activities. We have also introduced 'Global Perspectives' as a new subject which primarily focuses on developing the skills needed in 21st century.
Cambridge Primary Checkpoint Tests
The Cambridge Primary programme is culminated through the diagnostic Primary Checkpoint Tests which give our learner an overview of his/her progress in primary as they graduate to the secondary.
Remediation is provided by our proactive teaching staff on the areas of concern based on the checkpoint results.
Our students have consistently performed at par with the international standards at the Checkpoint Tests. Many of our students have been placed above the international standard of CAIE examinations.
Fees for Cambridge Primary:
MET RISHIKUL VIDYALAYA – FEE STRUCTURE for the batch of 1st STANDARD (Grade I) starting from Academic Year 2020 - 21
| Grade | Academic Year | Fee (INR) |
| --- | --- | --- |
| I | 2020 - 2021 | 2,31,000 |
| II | 2021 - 2022 | 2,31,000 |
| III | 2022 - 2023 | 2,65,650 |
| IV | 2023 - 2024 | 2,65,650 |
| V | 2024 - 2025 | 3,05,498 |