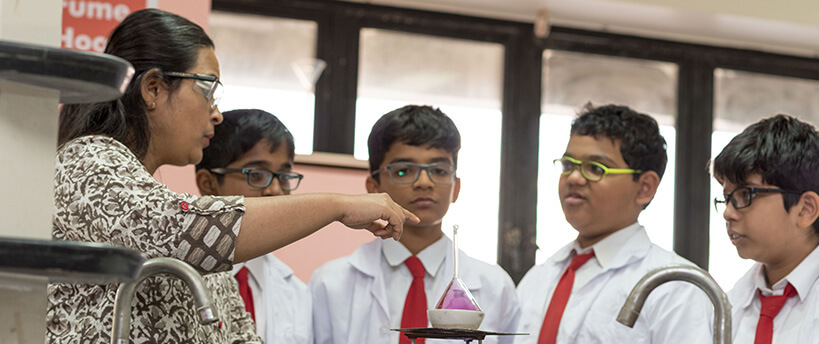 MRV, IGCSE International School in Mumbai follows the Cambridge curriculum at Lower Secondary (Grades 6 to 8) and Upper Secondary (Grades 9 and 10) keeping the Indian ethos intact. We firmly believe that learning is a constant and continuous process for both, students and staff. Thus emphasis is laid on research backed best teaching practices and modern technology in the school. We plan and execute our curriculum to fit technologically aided learning process to increase the wealth of the child's conceptual learning combined with relevant content.
At MRV, teaching and learning is executed in a manner that facilitates revisiting the key concepts in order to ensure that students gain enduring understanding of the entire syllabus.
MRV encourages learner centred, experiential and enquiry based approach to learning which is at the core of Cambridge Secondary curriculum.
MRV develops learner's knowledge, understanding and skills in:
Subject content
Applying knowledge and understanding to familiar and new situations
Intellectual enquiry
Flexibility and responsiveness to change
Working and communication in English
Influencing outcomes
Cultural awareness
MRV's guided enquiry based approach to learning, sets a child on an upward flight. It develops a child as a learner and equips her/him with skills that include creative thinking, enquiry, problem solving, and leadership, inter and intra personal awareness, influencing outcomes and academic independence as an excellent preparation for the next stage.
At MRV, we offer the following subjects (Grade 6 to 8):
Compulsory Subjects
Other Subjects

English
Mathematics
Science (Physics, Chemistry and Biology)

History
Geography
Global Perspectives
Additional Language
Skill Based Subjects

Information and Communication Technology (ICT)
Art
Physical Education

Music
Yoga
Dance
Self Defense
Assessments
Grade 5 onwards, we have progression tests and term evaluations coupled with ongoing regular reporting. Internal assessments in the form of book study, projects, class tests, skill tests and research work are taken throughout the year at the secondary level to check, monitor and remediate the understanding of the students at regular intervals.
Cambridge Checkpoint
At the end of Lower Secondary, pupils appear for the Cambridge Checkpoint tests, providing detailed diagnostic information on students' strengths and weaknesses before they move into the Cambridge IGCSE.
International General Certificate of Secondary Examination (IGCSE)
At the end of Cambridge Upper Secondary, learners gain Cambridge IGCSE qualifications. IGCSE is globally recognised by universities and employers worldwide as equivalent to the UK General Certificate of Secondary Education (GCSE) taken at Grade 10. Assessment takes place at the end of the course.
Cambridge IGCSE is different, new, modern, motivating and it is a real investment for a child's bright future in a global world.
It has an international outlook, is tailored for a multi-cultural and multi-lingual audience. It is a balanced and flexible course of study. It offers a choice between core and extended curriculum for most subjects.
This gives students of all ability levels the freedom to choose subjects that are right for them and, thereby, the opportunity to excel.
A child can further move to AS and A levels where we offer Science and Commerce Streams.
Subjects offered at Cambridge IGCSE (Grade 9 & 10):
Compulsory Subjects
Other Subjects
Science
Commerce

First Language - English
Mathematics
Hindi
Economics

Global Perspectives
French
Hindi

Physics
Chemistry
Biology