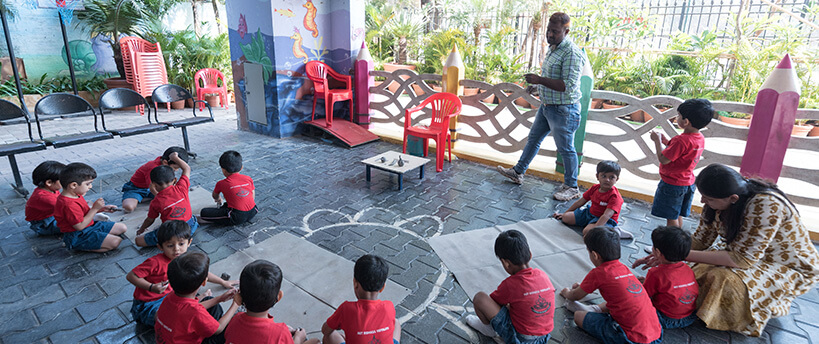 A Parent's Insight!
Mother Toddler is an interactive Holistic programme celebrating parenthood! It helps to redefine the role of parents by creatively organising all their talent, emotion, intellect and intuition to develop joyful parenting skills and play an active and aware role in the cognitive development of their child. These further strengthen the bond between the parent and child. The objective of this programme is to motivate the parent to be innovatively involved in their child's development.
From a Child's Perspective!
In the course of the Mother Toddler programme, a child constructs his own knowledge. The natural curiosity of the child is kindled by providing stimulating, sensorial and experiential learning opportunities.
Music is an integral part of the programme. Comprehensive selection of Prayers, Ragas, Dhuns, Songs and Rhymes enhance the integration of body and mind through the medium of music.
The celebration of various festivals embraces rich cultural values and beliefs in the young learners. Children socialise with peers and gain confidence in the environment around them. Mother Toddler marks the beginning of an independent Learner!
Also offering Pre-School programmes (Playgroup, Nursery, Jr. KG & Sr. KG)