MRV F.O.C.U.S Unveiled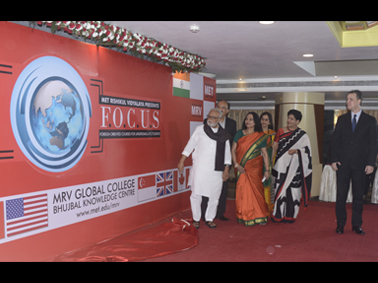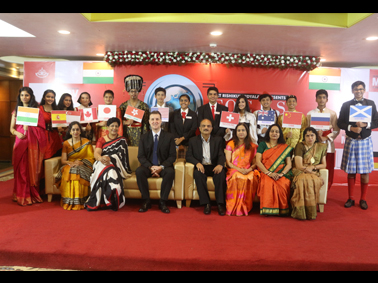 MET Rishikul Vidyalaya, a leading international school in Mumbai, launched its ambitious Global Education Awareness Programme - F.O.C.U.S (Foreign Oriented Curriculum for Undergraduate Students). Hon. Shri Chhagan Bhujbal inaugurated this Mumbai's first ever massive parent - student global academic engagement programme.
The MRV students organized a Fashion Show keeping in mind the school's global vision. The students showcased the culture of different countries and how international education brings in right talent and demeanour in a colourful way. The students exhibited their bright future in a symbolic way by bringing a 'Palkhi' on their responsible shoulders having the logo of F.O.C.U.S, which Hon. Mr. Chhagan Bhujbal unveiled in the presence of Mr. Pankaj Bhujbal, Trustee - MET, Mr. Samir Bhujbal, Trustee - MET, Mr. Rick Cran, An international education expert and CEO - Cran Enterprises, Dr. Arundhati Hoskeri, Director - MRV, Dr. G. Nagashree, Principal - MRV and Dr. Seema Tatwawadi, Director - MET Institute of International Studies.
Mr. Chhagan Bhujbal in his speech spoke about the launch of AS & A Level (equivalent to 11th and 12th standard), a tie-up with NCC Education to bring in foreign universities right here at MET campus, IELTS (International English Language Testing System), CIDTL (Cambridge International Diploma in Teaching and Learning) and IAEP (Integrated Academic Enrichment Program) which involves Robotics, Arts & Design and Social Awareness activities which will enhance students overall development. With this initiative MRV is set to change the way foreign education is perceived making the students ready for global opportunities.
Tags: MET Rishikul Vidyalaya