Conference on Human Resource Challenges Decade -3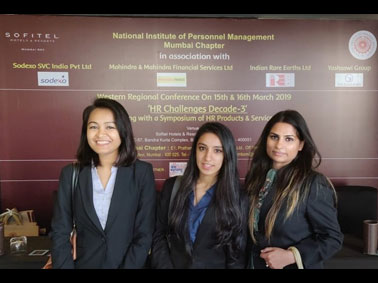 The National Institute of Personnel Management Western Region Human Resources Conference on "Human Resource Challenges Decade -3"held on 15th and 16th March, 2019 at Sofitel Hotel, BKC was attended by Namita Shah, Shriya Tak and Chinmoyee Saikia students of MMS Batch 2018-2020.
It was an insightful and interactive session from luminaries who were from the field of Human Resources, Industrial Relation and Organizational Development. It was an honor to listen to from HR dignitaries such as:
Mr. Unmesh Rai: Head Employer Brand and Talent Acquisition, Piramal Group.
Mr. Kavi Arasu: Learning and Change Specialist for Mordern Day Work Places and Communities.
Mr. Jaiprakash Kabra: Director, Mind Movers.
Mr. Shri Krishna Bhave: Senior HR at Forbes India.
Dr. Shibani Belwalwalkar: CEO at Theory of Purpose and Chairperson- Committee TEDx NMIMS.
The speakers delivered their valuable insights on "Creating Corporate Personality and Career Transition for the Next Decade." Through this profound interaction the students gained an industry perspective of new technologies and innovations in Human Resource Management. The speakers also focused on the changing dynamics of workforce engagement and the need for change in approach with regards to Employee Branding.