MET World of Music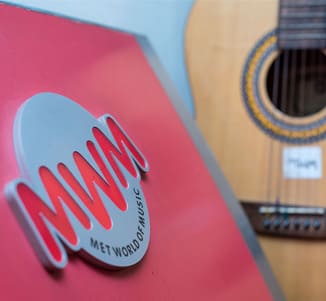 Now, Playing Guitar is a Child's Play!
MET World of Music (MWM) introduces the Certificate in Basics of Guitar. The first batch of students and employees commenced from August 19, 2014. Playing Guitar is a stress busting exercise which allows all to break free from the regular assignments and work, to relax in the world of music. Read More
The MWM is equipped with touch-screen kiosks, headphones and a colossal archive of music. The only fully loaded digital music centre in any campus. The library allows students to experience musical bliss in a hi-tech environment. Read More
Music Therapy Clinic
In order to demonstrate the effectiveness of the Music Therapy, MET Institute of Alternative Careers held the Music Therapy clinic at the MET World of Music. Over the two days of the clinic music therapy treatment for illnesses like hypertension, asthma, diabetes, arthritis, indigestion, migraine, depression, insomnia etc were delivered. Photos
MET's Inter-continental Connection
A 16-member delegation from UNISA (University of South Africa) comprising the Dean, faculty members and students belonging to various disciplines visited MET World of Music during their recent visit to MET. Photos
Mr. Chaukar, MD – Tata Industries visits MWM
Mr. Kishore A Chaukar, Managing Director – Tata Industries Ltd. visit MET World of Music recently. He was appreciative of the finest technology and widest collection of songs available at MWM.
Katrina Kaif dazzles MET!
Internationally famous bollywood actress Katrina Kaif visited MET Institute of Mass Media. She was extremely excited to meet the students, see the world-class infrastructure and hi tech facilities provided to the Mass Media students. Read More
Classical Achievement
Talented Hindustani Classical Vocal Artist, Shri. Omkar Dadarkar, from MET League of Colleges was awarded the coveted 'Aditya Vikram Birla Kala Kiran Puraskar' in the presence of Hindustani Classical Music Maestro Shri. Pandit Jasraj on November 21, 2009 at the NCPA. Read More
Vidya Balan @ MWM
The charming Vidya Balan who has mesmerized the Bollywood, was recently at MET for an interaction with the students. She was playing as One Day Reporter for a leading daily. She was pleasantly surprised and impressed with the MET World of Music (MWM) - the unique digital music library. Photos
The Original Indian Idol @ MET
India's first Indian Idol Abhijeet Sawant was at MWM on October 12, 2007. The man who is passionate about music, got impressed with India's first & only fully loaded digital music centre in any campus. Photos
Instrumental Training workshop
Faculty, staff & students from MET attended a hands-on Instrumental Training workshop for the basic training of Casio/ Synthesizer & Harmonium. Read More
Showcase
A unique platform provided by MWM to all the members of the MET family. Read More
Artiste of the season
MET World of Music held a musical evening dedicated to melody queen Bharatratna Lata Mangeshkar.