Global Contribution by MET Academicians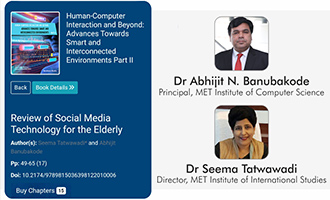 In order to implement and promote the more inclusive use of technology, two senior academician from MET came together and authored a chapter - 'Review of Social Media Technology for Elderly'. The same got included and published in the International Book titled 'Human-computer Interaction and Beyond: Advance Towards Smart and Interconnected Environments Part-II' by Bentham Science Publishers.
The book covers discoveries, innovative ideas, concepts, practical solutions and novel applications of Human-Computer Interaction (HCI). It is a synergistic project by experts and scientists from multi-nationality from South American, Europian and Asian continents namely Chile, China, Croatia, India, Iran, Malaysia, Peru, and South Korea.
MET, Mumbai congratulates Dr. Seema Tatwawadi, Director, MET Institute of International Studies, and Dr. Abhijeet Banubakode, Principal, MET Institute of Computer Science for their significant collaborative contribution.
Tags: MET Institute of Computer Science , MET Institute of International Studies