Inside the Cosmetics Industry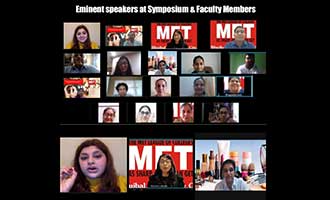 A Two Day International Symposium on 'Makeover of Cosmetics - Journey from Traditional to Contemporary' was hosted by MET Institute of Pharmacy (Degree) recently. The International Symposium featured distinguished speakers from India, USA, Dubai and Singapore. The program received overwhelming response with over 700 participants from all over India and 62 entries for the poster competition.
The Symposium included renowned speakers - Ms Anushka Nadkarni, Product Development and Formulation Scientist - Allure Labs Pvt Ltd., Ms. Rupinder Rawat, VP - Godrej Consumer Pvt Ltd., Mr. Mohit Patwardhan, a registered Patent Attorney and Regional Legal Counsel - Alvogen India, Mr. Ram Surat Singh, VP Operations - Atak Helios Perfume & Cosmetics LLC, Dubai and Ms. Munira Loliwala, Scent Design Associate - International Flavors and Fragrances (Greater Asia) Pvt Ltd, Singapore.
The sessions consisted of 'The life cycle of Cosmetics Product' covering overview of product development, formulation, packaging, quality control and marketing. Several other topics like Role of IPR in Cosmetics, The Evolution of Lipsticks, and Introduction to Perfumery took the audience through a journey of the cosmetic industry.