VIRTUAL INDUSTRIAL VISIT – VivaTest Research and Development Pvt. Ltd.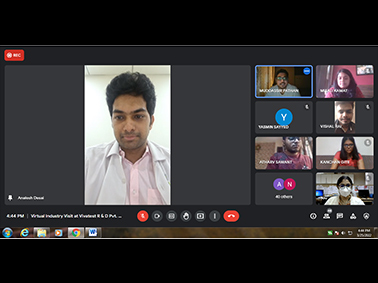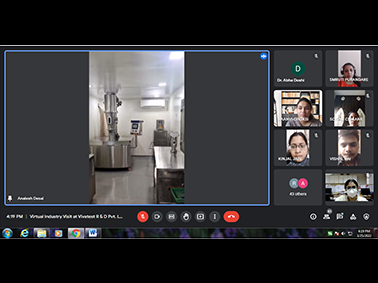 MET Institute of Pharmacy (Degree) had arranged a virtual industrial visit for students of Final Year B. Pharm at Vivatest Research and Development Pvt. Ltd, Vasai (East) on 26th March 2022 via google meet.
With the efforts of Mr. Analesh Desai, Director, Vivatest Research and Development Pvt. Ltd. and alumni of MET IOP all the attendees could see the 'state of the art' Pharma Research Centre.
The tour began with the formulation department, wherein a variety of equipment like VibroSifters, Rapid Mixer Granulators, FBD, Tablet Compressing Equipment, Autocoater system and Blister/Alu-Alu packaging unit were seen. This was followed by changing/gowning rooms, the documentation and archival rooms, stability chambers and their importance were emphasized. The analytical department consisted of a specialised room for HPLC, Dissolution Tester with autosampler, Karl Fischer apparatus, UV Spectrophotometer as well as a pH Meter. Mr. Desai concluded by briefing about obtaining funding using reproducible business models and the concept of business and entrepreneurship.