Welcoming Future IT Professionals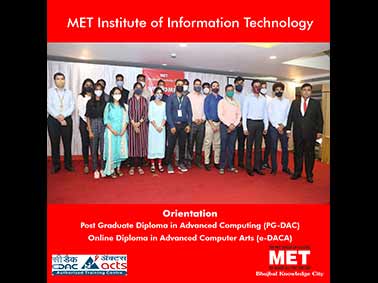 Well attended by the new students, faculty and people from the industry, MET Institute of Information Technology (IIT) had its first hybrid inaugural ceremony for the incoming batch of students. MET IIT in affiliation with the Centre for Development of Advanced Computing (C-DAC ACTS) will deliver Post Graduate Diploma in Advance Computing (PG-DAC) and online Diploma in Advanced Computer Arts (e-DACA) to the aspiring professionals.
The Orientation was conducted at MET Convention Center and was available online for the enrolled students to join. Mr. Pankaj Bhujbal, Hon. Trustee – MET graced the occasion with his presence and words of wisdom.