Intellectual Property Rights and IP Management For Startup Workshop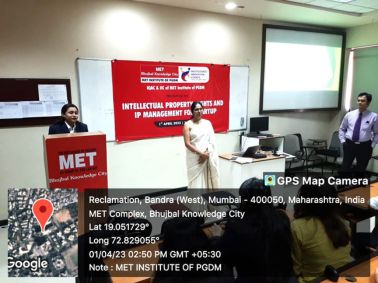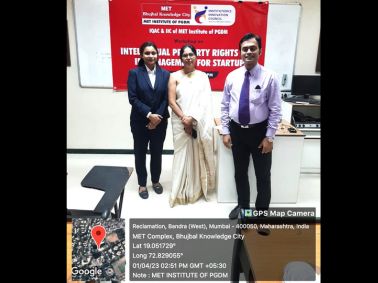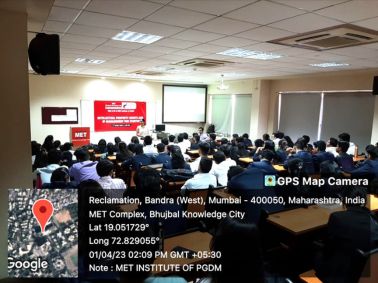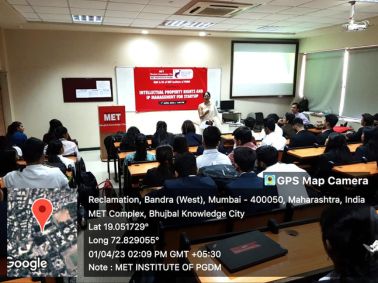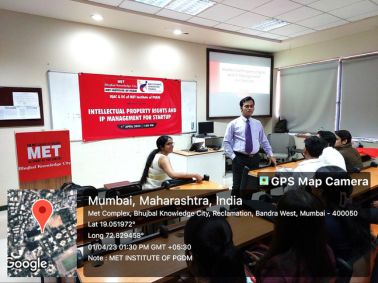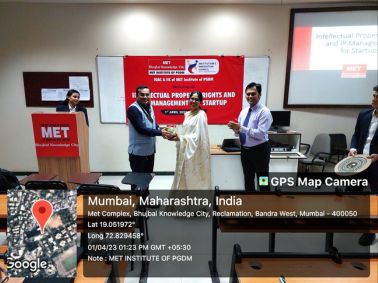 On 1st April 2023, MET Institute of PGDM organised a workshop for students of PGDM on the topic 'Intellectual Property Rights and IP Management For Startup'. The session was conducted by Dr. Suvrashish Sarkar, Associate Professor, MET PGDM along with the Guest Speaker, Ms. Sangeeta Pal, Advocate, Trade Mark Attorney and IPR Practitioner.

During the lecture, Dr. Sarkar provided comprehensive information that covered the aspects of IPR. He enlightened aspiring MBAs on IP rights, the significance of having a trademark for a brand and IPR practices that are followed in India, as well as guidance on which categories of innovation can be protected.

Ms. Pal delivered a thorough explanation during the session, where the students were able to gain knowledge about various legal aspects related to trademarks and patents, including IPR rights and IP facilitation for startups. The session covered topics such as the process of filling and registering trademarks and patents for startups, the benefits that startups can receive such as cost reduction, fast-tracking of trademark applications, legal relief and penalties associated with trademarks and patents. In addition, the session also highlighted the Indian law on the commercialisation of IPR, the significant sections related to IPR, and the course of action that can be taken in case any brand copies one's IPR.

The interactive Q&A session led by Ms. Pal was a delightful and amazing experience for the students. Throughout the workshop, aspiring MBAs acquired extensive knowledge of the significance of IPR for startups.