MET Academician as Resource person in FDP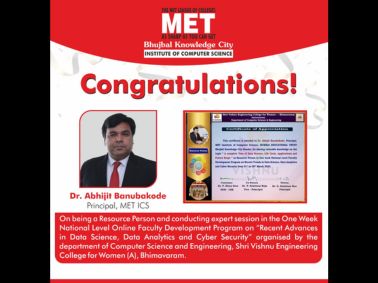 Dr. Abhijit Banubakode, Principal, MET Institute of Computer participated as a Resource Person and conducted expert session in the One Week National Level Online Faculty Development Program on "Recent Advances in Data Science, Data Analytics and Cyber Security" held on 1st – 05th March 2023 organised by the department of Computer Science and Engineering, Shri Vishnu Engineering College for Women (A), Bhimavaram, Andhra Pradesh.

During the session, Dr. Banubakode elaborated on the application of Data Science, Algorithms of Data Science, Data Science Life Cycle. Over 590 students, faculties and researchers from various parts of the country participated. The session received a tremendous response to thought-provoking ideas and insights.