MET eCell @ the Global TiE Summit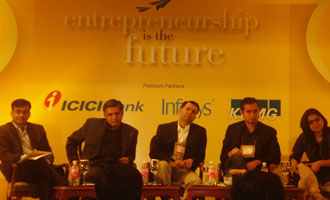 The Indus Entrepreneurs (TiE) - A global non-profit organisation focused on promoting entrepreneurship had organised its summit at Taj Palace, New Delhi. Embarked on its mission to help budding entrepreneurs by way of advice, guidance and assistance from successful & experienced entrepreneurs and professionals, the theme for the TiE summit was 'Growing India'.
Four MET eCell students - Karan Doshi, Rohan Mehra, Paras Shah and Chirag Mehta along with the Dr. B. K. Mukherjee represented MET at the summit, getting back with them a wider perspective of what it takes to be an entrepreneur. Besides the knowledge and experience that the eminent personalities shared, the summit also provided a platform where our young enterprising students networked with the top level management of various companies. Meeting eminent personalities like C.K. Prahlad, Dr. Gopalaswamy, Dr. Kiran Bedi, Mr. P. Chindambaram, Mr. Shiv Nadar, Dr. Anand Burman, Mr. Sanjeev Bikhchandani and many more, definitely proved and showcased creativity in application of their knowledge thereby enhancing the value of the ecology around the national and the social framework.
Tags: MET Institute of Management , MET Asian Management Development Centre , MET Centre for Insurance Training, Research & Development , MET Institute of Computer Science