Strategic Marketing Conclave 2023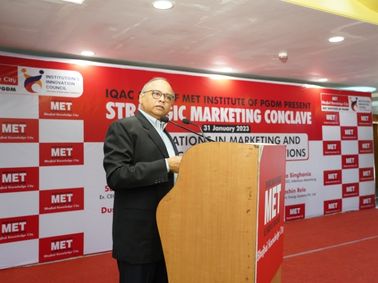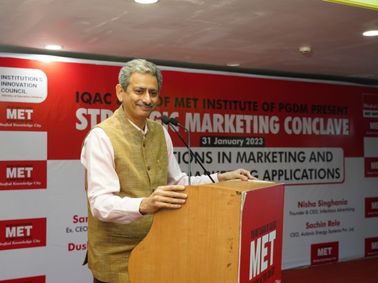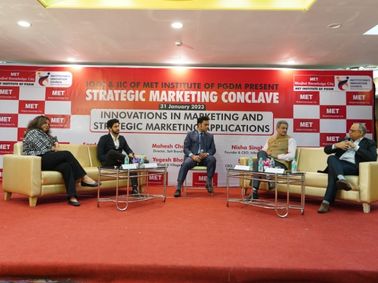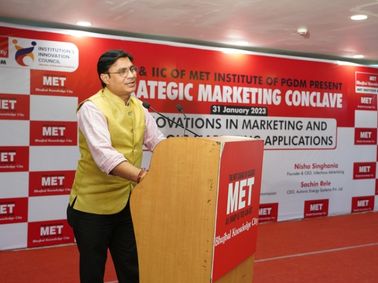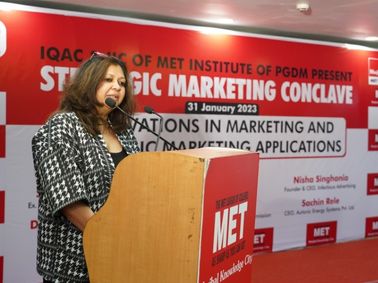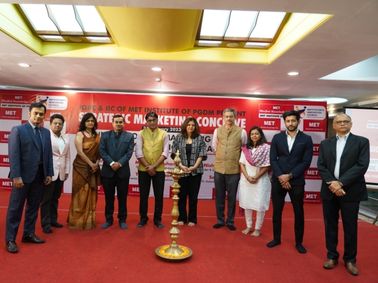 MET Institute of Post Graduate Diploma in Management organised a 'Strategic Marketing Conclave' based on the theme of "Innovation in marketing and strategic marketing applications" on 31st January 2023.

The guest speakers for the conclave were Mr. Sandesh Kirkire, Ex. CEO, Kotak Asset Management, Mr. Mahesh Chauhan, Director, Salt Brand Solutions, Ms. Nisha Singhania, Founder and CEO, Infectious Advertising, Mr. Yogesh Bhamare, State Director, Khadi and Village Industries Commission, Mr. Sachin Rele, CEO, Autonic Energy Systems Pvt. Ltd and Mr. Dushyant Panchal, Co-founder, EdJust.

Dr. Das enlightened students about the 3 stages of marketing and how innovation is significant in marketing with an example of 'Google Glass'.

The first speaker, Mr. Sandesh Kirkire shared his experience on how India has experienced digital transformation in the banking sector and what is a "high-value check" concept. Mr. Kirkire further shared his knowledge on his teaching subject in JBIMS like What are financial products, Why organisations are becoming customer centric, How an aggregator platform helps you become financially literate, What's a valuable company and What is a risk of opulence in the field of technology. He gave a motivational message to students saying, "Make sure your job is safe and keep updating yourself along with current innovation trends".

Mr. Yogesh Bhamare enlightened students about the significance of Khadi and how the Khadi industry has undergone innovation over time. Further, he described what's the implication of the name "Khadi Bharat" & "Khadi India", How the Khadi and village industries commission deals with Gram Udyog of India and How Khadi is contributing towards nature. He likewise shared his thoughts on how Lijjat Papad started their business by taking small loans from KVIC and how the Indian government is promoting Khadi.

Ms. Nisha Singhania enlightened the students on Why innovation is essential in a particular industry. She shared 3 case studies of UltraTech cement - How does a low involvement category like cement play a large role in the life of consumers, Holiday Inn Express - How does a value hotel chain engage with consumers even when they are not travelling and National Geographic - How does the world iconic photography brand get regular people to share their photos.

Mr. Sachin Rele started his speech with a small story on "Earth Shootout Day". He even explained why the glaciers are crucial to us, How Autonic was the first to introduce solar ATMs and What is power generation scenario in India.

Mr. Dushyant Panchal among the youngest EduTech leader shared an influential thought that the "IIT & IIM tag matters when you want to achieve big in life". He shared his experience from his college days, how he started his corporate journey with a salary of ?8 lacks at WhiteHat Junior, How sales help in boosting the corporate journey and how the EduTech industry is facing the problem of acquisition.

The conclave witnessed a panel discussion with the speakers which was moderated by Dr. Sarkar followed by an interactive Q&A session. The discussion ended with summarising all the speakers' thoughts on a promising note.