Yuva Sangam by GOI initiative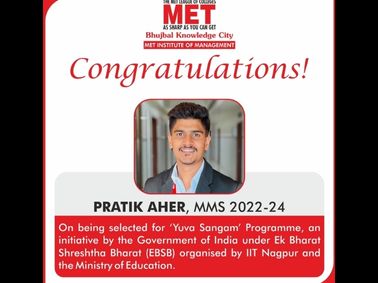 MET Institute of Management is glad to share that Mr. Pratik Aher, Student, MMS 2022-24 has been selected as a beneficiary of 'Yuva Sangam' Programme, an initiative by the Government of India under Ek Bharat Shreshtha Bharat (EBSB) organised by IIIT Nagpur and Ministry of Education. Mr. Pratik Aher is one among the top 50 candidates out of 1200 applicants for a week long trip to Manipur under this programme.

In order to strengthen the people to connect and build empathy between youth from North Eastern States and the rest of India, Ministry of Education, Govt of India has launched 'Yuva Sangam' programme under 'Ek Bharat Shreshtha Bharat'.

During the trip, Mr. Pratik along with other selected students will have multi-dimensional exposure under five broad areas - Paryatan (Tourism), Parampara (Traditions), Pragati (Development), Prodyogik (Technology) and Paraspar Sampark (People-to-people connect). In addition to this, various interactions with industrial bodies like FICCI, CM, etc.; interactions at Raj Bhawan, CM office, interactions with MSMEs, startup entrepreneurs, artists, singers, sportspersons, musicians, SHGs, NGOs, etc. will also be arranged as a part of the tour to enrich their overall experience.