Director General's Message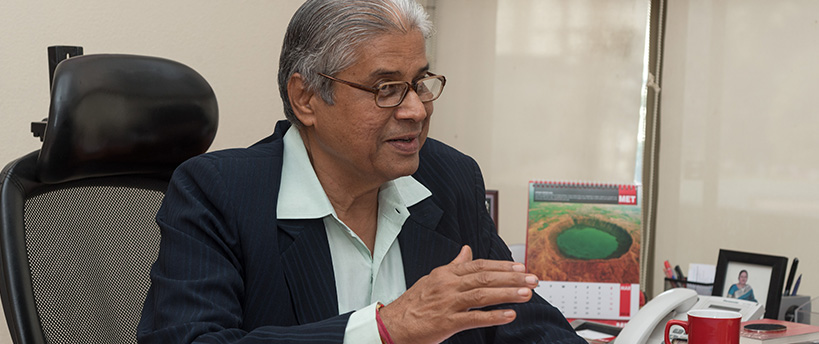 Nurturing Business Leaders
"Each of us is a CEO" – Peter Drucker
As one gazes through the kaleidoscope of management thought and practice, the terms management and leadership seem to have been used almost as synonyms. While some hold them as two sides of the coin, others believe that they are on the same side. Mr. Drucker's view that Management is doing things right; leadership is doing the right things also contributes to this. The global hall of corporate fame, in the latter half of the 20th century, is graced by leaders, who led from the front, practising the conventional management paradigm of visionary team leaders and morale boosters. Leadership was held to be a matter of choice and not merely a position.
With the 21st century, sleek and smart companies, led by bold techno-entrepreneurs, scaled Olympian heights, in the global pecking order. The likes of Bill Gates, Steve Jobs, Mark Zuckerberg, Larry Page, Elon Musk et al began conquering the global mind-space and workspace. The booming start up culture and innovation platforms have thrown up a new brand of leadership which nurtures and grows exponentially propelled by chain of merger and de-merger. It is this plurality and universality of nurturing the challenge of the new age leadership, which probably led Mr. Drucker to observe that "Each of us is a CEO".
Far beyond the projections of Alvin Toffler, we are riding high on the fifth wave with Internet Of Things (IOT), robots, AI, 3D printing, Bio/Nano technologies, Big Data and Analytics driving the business challenges worldwide. Despite the setbacks in Y2K and 2008, global e-commerce and the digital revolution have expanded their footprints in trade, business and manufacturing, so that today it accounts for more than 80% of the outlays even in conventional industries like automobiles and aircrafts. This humongous growth is powered by varied enterprises living side by side with the mega corps, which thrive on their networking support. These new born entities are supported by non-conventional and bold financial systems which often present paradoxes. The sustained investor support to Amazon and Tesla despite not declaring a penny as dividend; as also Ola and Uber operating with losses is a reflection of the bold new age valuation based financial metrics. It is this tectonic shift, which forced David S. Rose to state, "Any company designed for success in the 20th century is doomed to failure in the 21st".
A close look at the new age business management model presents a vibrant decision making and operational scenario, which necessitates buildup of dynamic e-empowered organisations with dynamic teams, built up almost from scratch and rapidly scaled up to capture business opportunities. Subsequently operations may be automated or scaled down to meet bottom lines. Thus at every stage it is the hand of the leader or leadership team which ensures survival and growth.
It is therefore important that the responsibility of identifying and nurturing business leaders is taken on as a challenge. At MET, students are exposed to leadership with vision, mission, ownership, trust, responsibility, strategic decision making, team building, scenario building, management games and experiential learning. Academic inputs are supplemented with lab, field trips, industrial visits, boot camps, internships and live projects. Special courses in Entrepreneurial Digital Technology, IOT as well as Life skills are delivered to sharpen the techno savvy approach and work life balance. Students also participate in national level programmes like Swacch Bharat, Start Up India, Make In India etc. and work for CSR related projects to develop sensitivity for the under privileged strata of the society, as we are members of UNAOC/UNECOSOC, who wish to develop a social conscience to shape students for building an inclusive society.
All stakeholders of management education have realised that building business leaders has assumed top priority, since the ever expanding glocal business arena is looking for that unique combination which seizes an opportunity and takes it to commercial success. Mercifully the lethal combinations of drones and AI have not yet produced a CEO who can as the Bard said, "Take arms against a sea of troubles. And by opposing end them". We are blessed to empower this generation to be GAME CHANGERS in the VUCA world.
We shape young management professionals to take their rightful place in the glocal business arena.
Prof. (Dr.) Vijay Page
Director General
MET Institute of Management