Diploma in Multimedia Journalism (DMJ)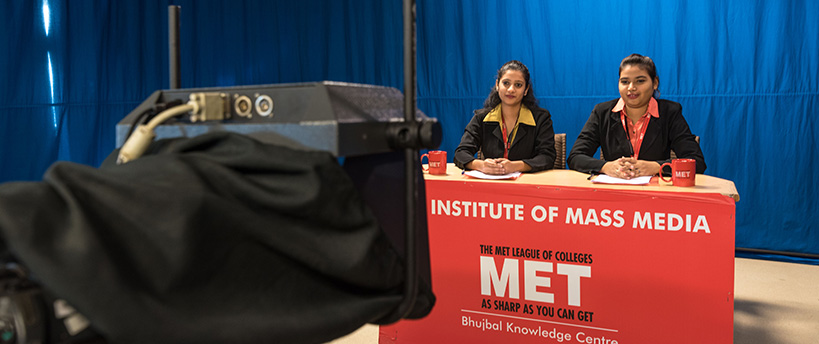 The approach is dictated by understanding the requirements of companies in the communication field (Print, Online, Broadcast, Radio, Events & PR) for candidates at the entry level.
The programme is designed to imbibe in the students the conceptual framework and requisite skills to transform into a journalist, sharp enough to cut through the competition and become an asset to the organisation.
The programme recognises that the character of journalism has changed over the years. Today's journalist has to be a professional, who needs to be equipped with the right tools to succeed in a highly competitive environment.
'Content is the king' is an adage that MET follows. The curriculum is designed, not only to teach the differences in the mediums, but also to give the tools, perspectives and skills to excel in each of these mediums. The concept of content has undergone a radical change. Our functional approach, unlike that of other institutions, believes in providing students the right mix of theory and practicals enough for them to understand and matchup with the dynamics of the fraternity. Of course, the conceptual framework of communication, content and journalism will be given to the students. But more importantly, the students will be eased into the real world through India's first student tabloid - Friday, in house documentaries, on line editions, live projects, internships and finally, through the placements.
Programme Overview
An exhaustive 11 month full time program including training and practical work across three modules of three to four months each that gives the student a 360 degree understanding of the Journalism fraternity and its peripherals.
Module Highlights
Business & Function driven pedagogy
Media Convergence Approach (IMC)
Lectures, Classroom discussions & Role Pays
Exposure to Google Certification & Email Marketing
Live Projects & Portfolios
Diploma Films
Online Campaigns & Experiential Learning
Functional Visits, Assignments, Case studies, Presentations & Evaluation
Sharpening Process
An insightful induction programme is held prior to the course commencement
Module I:

Foundation module sets a base of the communication industry, Journalism and news media as a business.

Module II:

This module allows the students to gain a concrete perspective of the functional aspects of their chosen profession.

Module III:

This module trains the students on the integrities to sharpen their journalistic skills and is targeted towards bringing the students at par with standards set in the industry. The extensive focus is on implementation based learning.

Module III concludes with a one to two month internship, where they are able to understand the uncertainties and business pressure, and implement their classroom learnings to real situations.

Career Services:

On successful completion of academic and internship evaluations, the Placement Cell assists students getting access to the best of career opportunities.
Syllabus
Diploma in Multimedia Journalism - Module I

Module 1 - DMJ:

Business of Journalism
Content Analysis - (Film, TV , News, Advertisements & PR Campaigns)
Writing Skills, Content Creation & Story Telling
Feature Writing
Media Markets & Consumers
Contemporary Management
Business Communication & Presentation Techniques
Visual Communication
Integrated Marketing Communications

Practical Sessions:

Understanding Camera & Studio Sensitization
Editing Sense
Sound Recording

Diploma in Multimedia Journalism - Module II

Module 2 - DMJ:

Print & Broadcast Media
Public Relations
News Reporting & News Bulletin (Print)
News Reporting & News Bulletin (Broadcast)
Business & Financial Journalism
Political & Investigative Journalism
Radio Journalism
Rural Journalism

Short Modules

Media Laws & IPR
Television Anchoring
Writing for Broadcast News
Writing for Tabloids & Magazines
Understanding Blogging
Customer Relationship Management

Diploma in Multimedia Journalism - Module III

Module 3 - DMJ

Event Management
Sports Journalism
Online Journalism
Enterpreneurship Skills
Portfolio Presentation
Genres in Journalism
Crime & Court Journalism
Photo Journalsim
Fashion, Lifestyle & Entertainment
Health, Fitness & Education