PGP in Mass Communication & Media Management (PGP MCMM) - Digital Marketing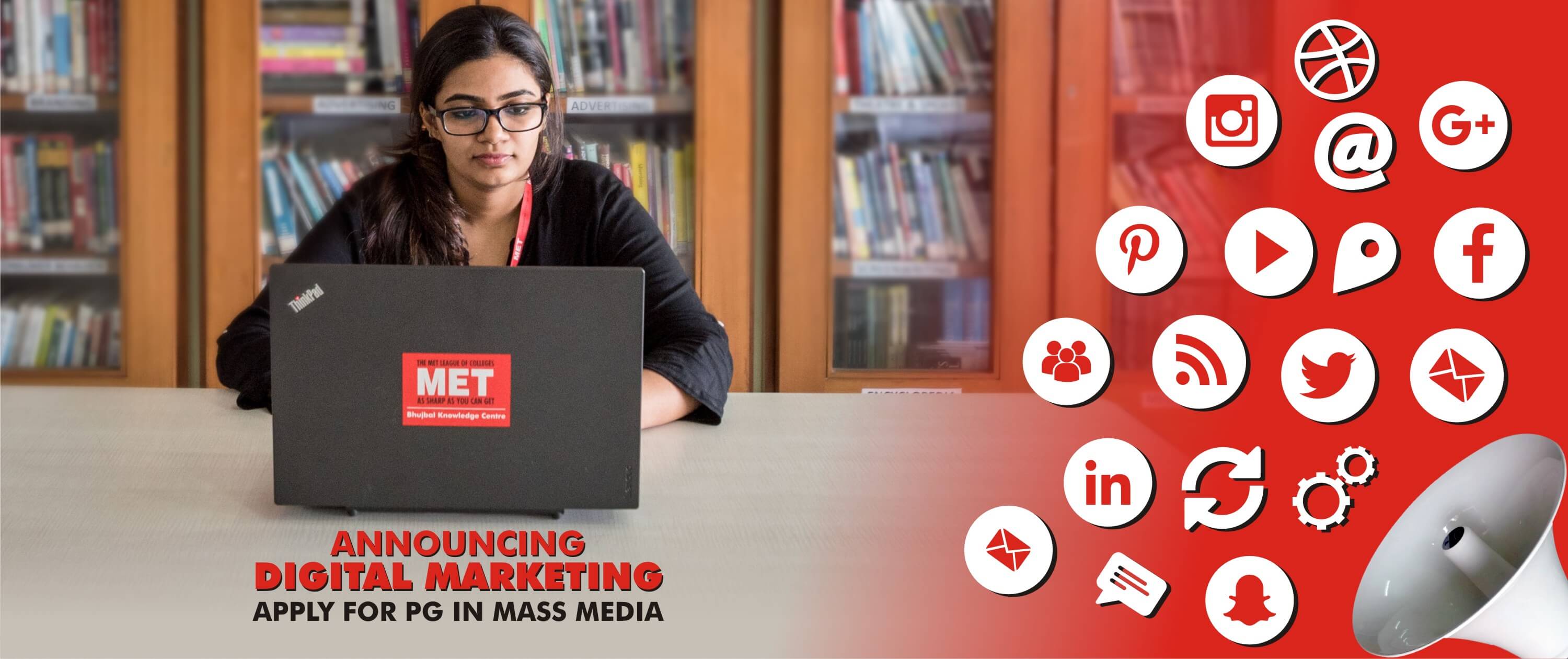 Mass Communication and Media Management is a rewarding career and students irrespective of any background can carve out a very successful career. MET Institute of Mass Media being one of the best Media and Mass Communication institutes in India, offers Masters level Post Graduation Course that is designed to sharpen students skills in the areas of Digital Marketing.

In the rapidly expanding landscape of Digital Media, the sector is experiencing an unparalleled growth. And hence the specialised PG programme in Digital Marketing adopts a comprehensive 360° approach. Bridging conceptual training with hands-on experience, this program ensures you are well-prepared and employable in the dynamic, fast-growing realm of digital marketing.

The curriculum is thoughtfully designed to seamlessly integrate new developments, ensuring you stay continuously updated and in sync with the dynamic industry. Elevate your skills and seize the opportunities in the thriving digital marketing landscape with our specialized PG Programme.

The successful completion of this programme would open up career opportunities in leading media houses and agencies or even client side with good placement opportunities. MET Alumni contribute significantly to the journalism industry, holding key positions in prestigious organizations. Through robust placement programme students are placed in the mediaverse with companies such as Zee News, Times of India, Mid Day, HIndustan Times, etc. Explore and refine your skill sets in Journalism with this program, where theory meets practical application, propelling towards success in the rapidly changing media landscape.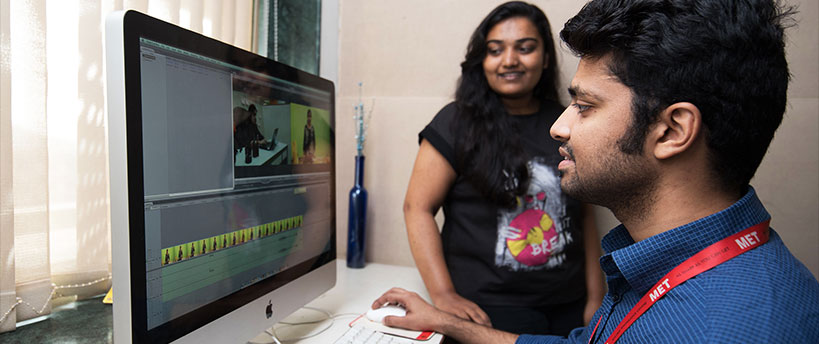 Programme Overview
PGP in Mass Communication and Media Management ( PGP MCMM) is a professional- level media training programme, including 3 semesters and Internship for immersive practical industry training, conducted over a period of 18 months.
Module Highlights
Function driven pedagogy
Digital Content Creation
Social Media Marketing
Lectures, Classroom Discussions & Role Plays
Live Projects, Showreels & Portfolios
Exposure to Google Certification & Email Marketing
Industry Interactions
Functional Visits, Assignments, Case Studies, Presentations & Evaluation
An insightful induction programme is held prior to the course commencement.
Semester 1:

It gives a foundation of mass media as a business. This semester is based on the convergence approach and therefore relevant across the streams.

Semester 2:

This specialization module allows the students to gain a concrete perspective of the functional aspects of their chosen vertical and understand the business cycles of the media's used to run the domain well. It is aimed at creating resourcefulness, enhancing networking skills and encourages teamwork.

Evaluated Summer Internship Program:

The Semester 1 concludes at students taking up a two to three internship where they are able to understand the uncertainties and business pressure learn the actual tricks of the trade and implement their classroom learnings to real situations.

Semester 3:

This module is targeted towards bringing the students at par with standards set in the industry. The extensive focus is on implementation based learning. The students also create their portfolios.

Career Services:

On successful completion of Academics and Evaluated Summer Internship Program (SIP), the Placement Cell assists students getting access to the best of career opportunities.
PGP in Mass Communication and Media Management - Digital Marketing
MET Institute of Mass Media is Located at