Director's Message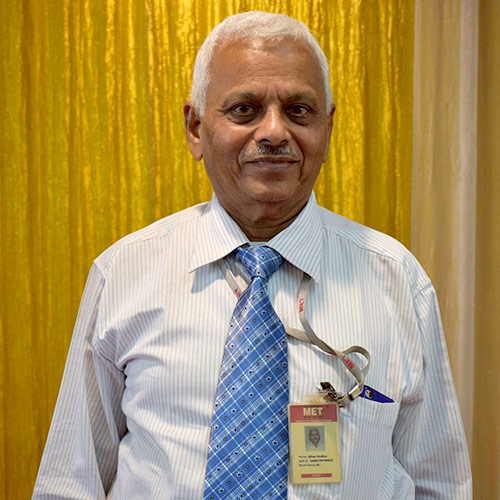 In India, emphasis is given on education and it is our responsibility to see that high quality education is imparted to the students. At MET Institute of Pharmacy (MET IOP) we see to it that there is all-round growth of the student by the time he/she graduates from our institute. Sometimes, big problems have simple solutions. NASA found that the pens would not write at zero gravity and had to spend millions of dollars to develop a pen that worked at zero gravity. Russians solved the problem by making use of a pencil!
I feel happy to state that practically every year we have university toppers at first year, second year, third year and /or final Year B.Pharm. In the academic year 2008-09 we had the university topper at the final year B.Pharm.
To give a better exposure to our students we interact with the professors from the foreign universities. In the recent past Prof. Dr. Mike Munde and Prof. Dr. Simon Gaisford from the School of London, U.K. University have visited our institute and had one to one interaction with the students of MET IOP.
Apart from academic activities our efforts at MET IOP are to preserve our culture. We have been celebrating Mangla-Gouri in the month of Shravana and march in Dindi (procession) chanting the name of Lord Vithal, Sant Dnyaneswar, Sant Tukaram.
At MET IOP we encourage the students to take part in small research projects so that they get exposure to the research activities and start thinking independently and at the same time we see to it that they do not neglect their regular studies.
We keep in touch with the students who have graduated from our institute through our alumni association. We are proud of the fact that some of our students have obtained M.S. and Ph.D. degrees from Universities in U.S. and one of our students is a Professor at the University in U.S.
We are extremely thankful to our Trustees Mr. Chhagan Bhujbal, Mr.Sameer Bhujbal and Mr. Pankaj Bhujbal for their support and the financial help from time to time and for the homely atmosphere we enjoy at MET.
At MET we teach the students to control their Mind, Emotions and Thoughts and those who learn this are the true METizens !
Dr. U B Hadkar
Director - MET Institute of Pharmacy