Diploma in Advanced Computer Arts (DACA)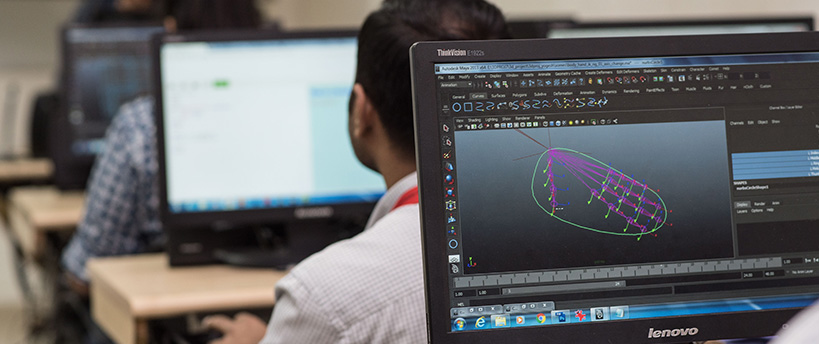 DACA Course Focus
C-DAC, ACTS has designed the following courses keeping in mind the emerging trends in advanced computing as well as contemporary and futuristic human resource requirements of the Computer / IT industry.
DIPLOMA IN ADVANCED COMPUTER ARTS (DACA)
The advent of multimedia has had a profound impact on various media services such as advertising, film production, etc. In the present scenario, commercial artists who are familiar with computing technology have a wide range of opportunities in these market segments.
Computer Artists can offer consultancy services to architects, interior decorators for visualizing 3D architectures, textile industry, fashion designers, publishing industry, the education and training industry, tourism development, industrial design. They can also opt to provide visualization support to film-makers.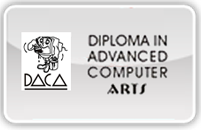 The internet and its diverse applications encompassing every field and aspect of life have created numerous opportunities for Web Page Designers. Besides Software Development Organizations, the Computer Animation Industry is in great need of Computer Artists. The unique Diploma in Advanced Computer Arts is undoubtedly a boon to the requirement of all these industries.
DACA Highlights at MET:
100% Industry Faculty
Portfolio Development
Soft Skills Module
Excellent Placement
24x7 Animation Lab Facility
Digital Library
DACA Course Modules:
Sr. No.
Module Name
Hours
1.
Introduction to Computer Fundamentals
30
2.
Digital Image-editing and effects
150
3.
2D Animation

Digital Video
Digital Audio

180
4.
Project
120
Total
480
Module-I: Introduction to Computer Fundamentals (30 hrs)

Introduction to Computers, Power point presentation

Module-II: Digital Image-editing and effects (Graphic Design) 150hrs

Photoshop: Conventional & Computer Art and Image Editing Techniques, Introduction to Photoshop interface, Concept of Layers,Tools selection types, Image Collage Techniques, Concept of Masking (Types of Masking), Introduction to Scanner, Digital and Painting (Brush, digital Tablet), Retouching Images (Clone Stamp, Healing brush, Patch Tool), Pixel Art and Gift, Adjustment layer, Typography

Illustrator: Bitmap vs vector, Viewing/opening documents, Title bar info, New document specifications, RGB v CMYK, Navigation, Rulers, Guides and grids, Tool Panel: Tool bar, rawing simple shapes, Pen tool, Selections, Transforming shapes: Transforming shapes, Duplicating shapes & transformations, Type Tools: Selecting and creating type, Font usage, formatting, Type wrapping around objects, Converting to outlines, Object Relations: Basic fill, Basic strokes, Positioning, Alignment, Transparency, Saving and Exporting: Saving for various software imports, Bitmap vs vector export

Module-III: 2D Animation (180 hrs)

Principles of animation
Squash and Stretch, Anticipation, Staging, Straight Ahead Action and Pose to Pose, Follow Through and Overlapping Action, Slow In and Slow Out, Arc, Secondary Action, Timing, Exaggeration, Solid drawing, Appeal, Character Development, Character Model sheet, Visualization of different views, How to Draw Expressions, How to make Story-board, Story Board design, Camera visualization

After effect
Introduction to After Effects interface, Time line nonlinear editing, Video editing (Includes correct video setting), Character Animation (Rigging of character), Constrain of rigging, Typography Animation, Adding sound, Trimming and editing Video, Colour Correction, Exporting Video output.

Digital Audio
Basic Qualities of Sound, Digitization of Sound, Sound re-sampling, editing and mixing of WAV audio, Introduction to various File Formats

Module- IV: Project (120 Hrs)

Campaign, Press ad, Magazine Ad, Hoardings, Facebook, Static Banner Adaptation, Poster A3
Corporate Stationary, Logo Design, Visiting Card, Brochure, Calendar Design, New product launch, Teaser Campaign, Restaurant Menu Card, 2D movie poster Book Cover Press ad, Magazine Ad, Hoardings.
2D animation Short Film, info graphic animation, 2D Logo Animation
| Sr. No. | Module Name | Hours |
| --- | --- | --- |
| 1. | UX process and Architecture | 80 |
| 2. | UI and Web Design and Development | 120 |
| 3. | 3D Game and Product Modelling | 160 |
| 4. | Project | 120 |
| | Total | 480 |
Module-I: UX process & Architecture (80 Hrs)

Interviews: What is a User Interview?, How to conduct interviews as per Context, Collect data from different people as per context, https://www.interaction-design.org/literature/article/how-to-conduct-user-interviews, Observation: Interpretation of data which are collect in user interviews, Set focus and goals, https://www.interaction-design.org/literature/article/contextual-interviews-and-how-to-handle-them, Conceptual Model, User Model, Personas, Uses of personas in UX, https://www.interaction-design.org/literature/article/personas-why-and-how-you-should-use-them

Scenarios, Scenarios describe the stories and context behind why a specific user or user group comes to your site, https://www.usability.gov/how-to-and-tools/methods/scenarios.html

Wireframe, Prototype, Visual design, User testing

Module-II: UI Design & Web Development (Website Designing & Development) 120 hrs

Basic HTML coding with Note Pad, Introduction to Dreamweaver user interface, Dreamweaver insert menu, Cascading style sheet, CSS3 properties, Dreamweaver spry Menu, Responsive, Javascript, jQuery, What is CMS?, What is prototypes?, Hybrid Development (Mobile + Web + Tablet), Design Thinking, AI, Chatbots, etc.

Module-III: 3D Game & Product Modelling (160 hrs)

3D Max: Introduction to View ports and their navigation, Grouping, ungrouping and exploding, 2D spline Modeling, Modeling, Product Modeling, Modeling gazettes, Properties etc., Low poly modeling, Modeling for gaming, Material and Texturing, Using bump maps, noise and displacement, UVW unwrap, Texture Painting in Photoshop, Texture applying, Animation, Using track view controllers, Edit time, Keys and ranges, Animation constraints, Basic camera shots

Module- IV: Project (120 Hrs)

Product wireframe on Mobile App, Web, Prototyping
Responsive Web site
Mobile App HTML pages designing (responsive)
Low ploy modeling game properties (Game props), Logo Design and animation, Exhibition Tarde fair stall modeling and texturing
| Sr. No. | Module Name | Hours |
| --- | --- | --- |
| 1. | 3D Character animation with Maya | 220 |
| 2. | Digital Content | 80 |
| 3. | DACA Portfolio presentation | 60 |
| 4. | Project | 120 |
| | Total | 480 |
Module-I: 3D Character Animation with Maya (220 Hrs)

Maya User Interface, 3D navigation and concepts, Modeling, Character Modeling, Material, Texturing, Lighting, Rigging and Skinning, Animation

Module-II: Overview - How Digital Marketing works

Digital Media (Content), Motion Graphic, Online Advertisement – (Flash, Adobe Edge, and Google Web Designer), Email Marketing – (Photoshop, HTML, CSS), Landing Pages – (Photoshop, HTML, CSS, Responsive, JS), Overview - How Digital Marketing works: Social Media, Content, Influencers, Remarketing

Interactive banners, Platform specific

Module –III: DACA students Portfolio Designing (Flash scripting) 60 hrs

3D Max: Introduction to View ports and their navigation, Grouping, ungrouping and exploding, 2D spline Modeling, Modeling, Product Modeling, Modeling gazettes, Properties etc., Low poly modeling, Modeling for gaming, Material and Texturing, Using bump maps, noise and displacement, UVW unwrap, Texture Painting in Photoshop, Texture applying, Animation, Using track view controllers, Edit time, Keys and ranges, Animation constraints, Basic camera shots

Module-IV: Project (120 Hrs)

Social Posts, Gif animation post, Facebook Post, Digital advertising, Web banner, Over all digital marketing workflow, Motion graphic
3D Short film animation (Character animation)
DACA Students Project work on YouTube site MET DACA.
DACA course C-DAC web link: https://cdac.in/index.aspx?id=DACA&courseid=10
Eligibility Criteria:
10+2, M.F.A., B.F.A., B.Arch, G.D. Arts, Engineering, Science, Arts and Commerce stream or other equivalent degree or diploma holders in the field of Advertising, Commercial Arts, Painting, Sculpture, Textile, Fashion Designing, Interior Decoration.
Students from other academic backgrounds having artistic inclination and creative abilities are also encouraged to opt for this course. All they have to do is to qualify through the Entrance Test. Applicants need to have basic knowledge of using computers.
Admission Procedure:
The interested candidate can register and apply by Clicking here
Register and Apply online for DACA course. (Click here to Apply).
Provide basic information and education details.
The form number and password will be generated. The same to be used by the candidates for completing the application form.
Select the exam centre city and date for appearing in the CET.
Upload the latest PHOTOGRAPH using Photo upload facility.
Make payment for application fees using online payment gateway.
ADMISSION SCHEDULE DACA - September 2023 Batch
No.
Event
Dates
1
Start of online Registration and Application for DACA course
May 19, 2023
2
Last date of Online Registration and Application of DACA course and Payment of registration fees
CET 1:
June 23, 2023
CET 2:
July 21, 2023
3
Common Entrance Test (CET 1 & CET 2)
CET 1:
11:00 am
June 24, 2023
CET 2:
11:00 am
July 22, 2023
4
Announcement of CET1 & CET 2 Results
CET 1:
June 29, 2023
CET 2:
July 27, 2023
5
Payment of First installment of DACA course fees - Rs. 10,000/- plus GST
CET 1:
July 10, 2023
CET 2:
August 09, 2023
6
Payment of Second installment of DACA course fees - Rs. 90000/- plus GST
August 28, 2023
7
Commencement of DACA course
September 04, 2023
MET Institute of Information Technology is Located at