Team Knowledge Explorer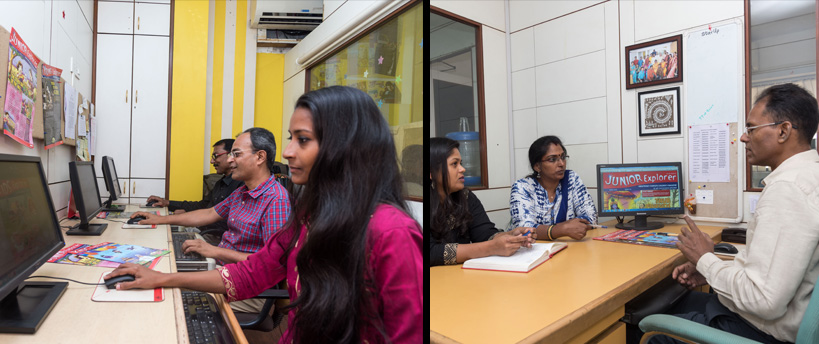 Manoj Mahanta – CEO & Managing Editor

Twenty one years of hardcore media experience ranging from advertising to marketing to PR to event management to journalism! That's what his bulging portfolio encompasses. Besides his successful innings with MET Knowledge Explorer, he is associated with the Dainik Bhaskar Group, in the capacity of "Features Editor" responsible for industry-based weekly business features.

He has been Consulting Editor of three B2B magazines – SME World, Realty World and Microfinance World, with one of the country's leading publishing house - The Indian Express Group; and prior to it he was a 'Feature Writer' with the Group for approximately four years.
---
MET Knowledge Explorer is supported with the acumen, dedication and commitment of its entire team comprising:
Editorial
Shobha Tawde - Editor

A prolific writer, Shobha is the Editor of all the three magazines. She is responsible for conceptualising, writing, coordinating, sub-editing and putting the final content in place so as to make the magazines perfectly presentable to the readers.

Her natural flair for writing and a command over the nuances of the language comes from her experience in the Special Pages team of The Indian Express group. A post-graduate in Economics from Mumbai University her first foray into the professional arena was as a Research Analyst in the Investments Intelligence Division of the Centre for Monitoring Indian Economy (CMIE). Along with her professional upswing, she had a short stint in teaching by being associated with the visiting faculty of professors to teach Managerial Economics to the SYBMS students of SIES College of Commerce and Economics.

Noel Fernandes – Asst. Editor

A graduate in Commerce with almost 10 years of experience in Journalism, Noel is the Assistant Editor of all the three magazines. Besides his valuable editorial contribution he is also involved in business development strategies of the magazines.

In his earlier stint as Feature Editor in The Indian Express he was involved with reporting, writing and copy editing feature articles. He also worked as a Copy Editor and Reporter for an UAE-based publication, 'Paris Gallery', a lifestyle magazine. He ventured into the field of journalism as a Reporter with a Binani Group of Companies magazine, called 'Minerals & Metals Review' and later as Sub Editor cum Reporter at 'Construction World' owned by the Dalal Street group.

Nikita Gaundalkar - Sr. Correspondent

A linguist, Nikita is the Senior correspondent for all the three magazines of MET Knowledge Explorer. She comes with a versatile flair for writing on different subjects, but her strength lies in creating content and activity for Kids Explorer and Junior Explorer. She also specializes in presenting the world of different career opportunities to the readers of Young Explorer.

Apart from an Honours in English Literature at the Post-graduate level from the University of Mumbai and a Post-graduate Diploma in Journalism and Mass Communications, Nikita has worked in two diverse professions. Before getting into writing for the magazine, she enjoyed a short stint as an Itinerary Planner in a Mumbai-based International Travel Agency.
---
Creative
Vinod Jumde - Creative Head

The Creative Head of all the three magazines, Vinod is responsible for the final look of the magazines. His work involves in presenting the magazines by blending the editorial content perfectly with a visual appeal that will cater to the learning inclinations of its diverse audience.

A Bachelor of Fine Arts from Chitrakala Mahavidhyalaya, affiliated to the University of Nagpur, he has a vast body of experience in the field of advertising and design. Along with his proficiency in softwares like Corel Draw, Photoshop, In Design and Adobe Illustrator; he is skilled with Innovative 3D concepts, paper sculpture and many more creative pursuits. He has worked as Art Director with IB&W and as Art Consultant with SSC & BLintas.

Snehal Ghawali - Design Executive

As the designer of the magazines, Snehal has shown her prowess in showcasing her immense creative potential. Her artistic insight and choice of images has helped each of the magazines carve their unique creative niche.

With a Diploma in Applied Art from L. S. Raheja School of Art, Mumbai, she is well-versed with different softwares that are integral to the making of the magazine. With over 13 years of experience in the field of Advertising and Print Media, she is proficient in Adobe Photoshop, Adobe Illustrator, Adobe Indesign, Adobe Acrobat and Corel Draw. She has earlier worked as Associate Art Director with Brainchild Advertising Agency and as Graphic Designer with Smarts Designworks.
---
Marketing
Vaishal Dharamsey - Manager
Sharad Deoray - Sr. Executive
---
Administration
Shubhangi Todankar
Sunayana Singh
Mansi Patyane
Supriya Chavan
---
Field Staff
Yogesh Tajane
Arvind Gawde
Avdhut Jadhav
Sunil Jadhav
Ajinkya Lagade
Nitesh Vaskar
Tejas Vayangankar
Rupesh Adurkar
Amol Shinde
Kiran Mandavkar
Prashant Vinherkar
Deepesh Vora