PGP EMBA-Insurance (Post Graduate Programme in Empowered Management and Business Administration-Insurance)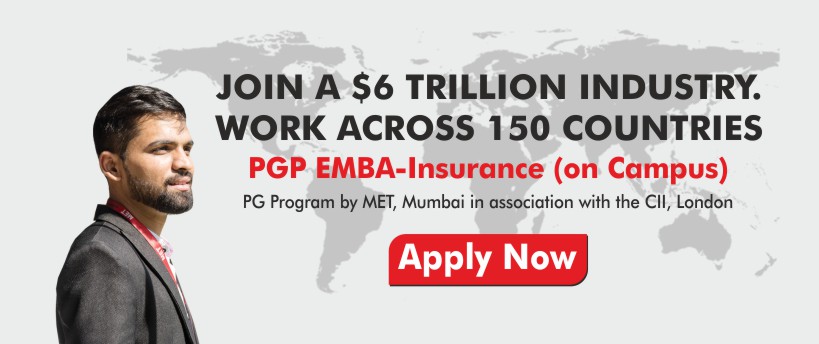 MET, India's premium B school and the CII (Chartered Insurance Institute), London, the world's most reputed insurance body, have together devised a PG programme that will shape global insurance professionals in India.
Technical contents of the Post Graduate Programme in EMBA-Insurance have been developed by the CII, London. This, coupled with the management and business modules designed by MET, will deliver unrivaled specialised education in an industry that's poised for phenomenal growth. Post graduate students can now get the best of both worlds. Not only will they have the double advantage of mastering an PGP EMBA and Insurance, but they will also get the edge in placements. Because when you are razor sharp on both sides, you can cut across the world. 150 countries, to be precise.
The MBA in Insurance surely opens doors for budding professionals as MET's Post Graduate Programme in Empowered Management and Business Administration offers selective specialisation in Insurance, enabling them to master the chosen arena. Beside this, it offers them an internationally recognised qualification and chartered status. The students from this post graduation / masters course in insurance would get familiar with the global insurance industry and receive optional training in the London International Insurance Market. Recognising the steadily expanding requirements of the economy, MET - a leading Insurance Institute in India invests in the delivery of a world class PGP EMBA-Insurance program.
International Edge
Eligibility
A candidate seeking admission must be a Graduate in any discipline from a recognised university, approved by the University Grant Commission (UGC). In the case of foreign nationals, the university must be approved by the respective state/country.
Those who are appearing for the final year of Degree Examination in the current year, can also apply. However they must produce documentary evidence of having passed the examination on or before the commencement of the programme, failing which their admission will be liable for cancellation.
Application Process
Step 1
Click 'Apply' button and register yourself with Name, Surname, Email, Mobile number and Qualification. Select Discipline and Programme for admission process. Or you can click 'Apply' button from Programme page.
You will be redirected to http://eduworld.met.edu. Verify the OTP received on registered Mobile number/email. Choose any one mode of transaction:
Credit Card/ Debit Card/ Net Banking: Make an online payment of of Rs.2000 (for Indian nationals) or US $ 27 (in case of foreign nationals) through a credit/ debit card/ Net Banking. On successful transaction you will receive an email with Registration Code (to be used as User Name) and Password with online link to login and fill the Online Application Form.
Login into MET Online Application Form portal, using information sent to your registered email id. Please fill the complete application form, scan and upload all relevant documents, photo, Statement of Purpose (SOP) Video and signature. After clicking on 'Submit' button, it will generate a PDF file containing your Application Form and enclosed documents.
Please fill all details before submission of form, in the process of filling your form, your data can be saved, retained and edited. Before final submission of Online Form, you are requested to verify all details once again.
Step 2
After successful submission of your online application, you will be intimated about the schedule of your Online Personal Interview through email/sms. Detailed instructions and process of attending the Online PI will be mailed to your registered email id.
IMPORTANT
Documents scanned and uploaded would need to be produced in original along with attested copies at the time of admission. Marks under any category shall be awarded only against relevant uploaded documents. Admission will be confirmed only after verifying the original certificates.
List of documents required to be uploaded:

10th Marksheet
12th Marksheet
Graduation Marksheet
Hall Ticket (TY, Last Semester if appeared)
Residence Proof
Photo ID Proof
Parents ID Proof
Work Experience (If any)
---
Admission Procedure
Candidates applying for this programme will be selected on the basis of:
CATEGORY 1
MET - MCT + Aptitude Questions and Statement of Purpose – SOP on video (Online Interview only if required) + Academics Performance + Other Parameters
or
CATEGORY 2
MH-CET, CMAT, XAT, CAT, ATMA, GMAT, NMAT, MAT + Aptitude Questions and Statement of Purpose – SOP on video (Online Interview only if required) + Academics Performance + Other Parameters
Category 1: MET - MCT Applicants
| | |
| --- | --- |
| MET - MCT | 100 |
| Aptitude Questions and Statement of Purpose - SOP | 80 |
| Academics Performance | 10 |
| Other Parameters | 10 |
| Total | 200 |
Category 2: CAT Applicants
| | |
| --- | --- |
| MH-CET, CMAT, XAT, CAT, ATMA, GMAT, NMAT, MAT | 100 |
| Aptitude Questions and Statement of Purpose – SOP | 80 |
| Academics Performance | 10 |
| Other Parameters | 10 |
| Total | 200 |
MET - Management Congruence Test
MET - MCT is specifically designed to assess the suitability of students for various management careers. These tests establish score on emotional balance, extroversion, adaptability, congruence and ethics. There are no right or wrong answers. The candidates are to describe themselves honestly and as accurately as possible.
---
Fee Structure
Annual Fees is Rs 3,50,000 (Rupees three lacs fifty thousand only) + GST as applicable. Fees are payable by A/c payee demand draft in favour of 'MUMBAI EDUCATIONAL TRUST's ASIAN MANAGEMENT DEVELOPMENT CENTRE' payable at Mumbai.Students can resort to online payment as per the details contained here in the prospectus.
On being selected the students will have to pay the total fees of first year i.e. Rs 3,50,000 (Rupees three lacs fifty thousand only) + GST as applicable immediately at the time of admission, failing which the admission is liable to be cancelled. Fees once paid will not be refunded under any circumstance.
The London Study Tour is optional for the students who are ready to pay Rs 2 lacs extra for the visit, before the start of the tour. MET shall not undertake the tour programme if the number of students are insufficient.
Loan Facility
MET has worked out special education loan schemes for qualifying candidates with leading banks. Details are available at the Institute.
Hostel Facility
Currently the Institute does not provide in-house hostel facilities to students. However, it endeavours to help students procure hostel accommodation.
ALUMNI SPEAK
"MET as an institute is well renowned and offers learning under quality professors with affordable fees. MET changed my life, giving me an opportunity to work with an Insurance company in Dubai since last 10 years."


Dhaval Punamiya
eMBA-Insurance, 2010-2012
Business Development Manager
Orient Insurance Company
Dubai

"MET has been a pathway in building my successful career. I was recruited from campus for a company in Dubai and have ever since flourished and grown. With the help of MET I was able to experience my dream of visiting Lloyd's Market and pursuing ACII."

Tess Michael
eMBA-Insurance, 2012-14
DIP CII
Designation - Business Development Manager
Union Insurance Company PSC

"MET has helped me learn values and ethics on my way forward in the corporate life. I was recruited from college and then went on to venture into my own Business. Lessons on Management and trades have helped me to be confident on these decisions."

Nishin Saleem
eMBA–Insurance, 2012-14
Cert CII
Managing Partner
Gotalk Technologies

"Pursuing eMBA-Insurance from MET has been a great game changer in my career. The faculty at MET have been very knowledgeable and inspirational. eMBA-Insurance at MET affiliated to CII, London is very well recognized all over the world. In my Insurance career, I have travelled to various parts of the world and had an enriching experience. Thanks to all the members of MET for always encouraging and being there for us."

Bhushan D Narsinghani
eMBA-Insurance, 2010-12
Senior Manager
Risk Care Insurance Brokers

"eMBA-Insurance at MET gave me a very good platform to scale great heights in my career. The course had a mix of management and insurance subjects with best of the faculties who had immense knowledge and practical experience. The HOD, teachers and other staff of MET were always approachable for resolving all our queries. Lastly, all thanks to MET for giving me the launchpad to start my career internationally."

Shanky Jain
eMBA Insurance, 2006-08
Sr. Vice President
Unison insurance brokers Pvt ltd

"MET gave me the platform to rise up to my potential. During my course I was not only trained on technical aspects but was also groomed for the corporate journey I was going to start. Proud to be an alumnus of eMBA-Insurance course."

Tushar Shrivastava
eMBA-Insurance, 2010-12
Manager Business Development
Nextcare Claims Management LLC

"eMBA-Insurance course at MET will help you to understand from the very basic to deep technical details of all the major classes of Insurance"

Muhammad Shaheer
eMBA-Insurance, 2011-13
Head - Health Underwriting
Dubai Islamic Insurance & Reinsurance

"To come to MET means to be part of a great community, and eMBA-Insurance programme has definitely been a significant factor in my success thus far."

Sagar Kumar
eMBA-Insurance, 2018-20
Assistant Manager
Alliance Insurance Brokers, Mumbai

We also offer PG programmes including PGDM, PGDM (Media & Entertainment), PGP EMBA, and PGP uMBA.
MET CITRD is Located at