MET Rishikul Vidyalaya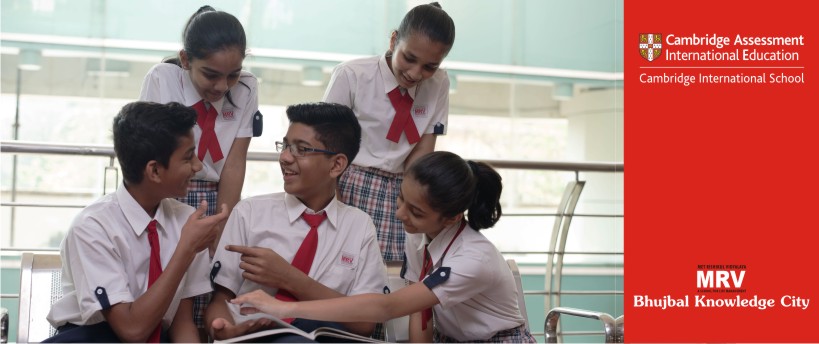 MRV is a registered Cambridge International School
Affiliated for Cambridge Primary, Secondary, IGCSE and AS & A levels
MRV Preschool is affiliated to IEYC (International Early Years Curriculum)
from Fieldwork Education, U.K
MET Rishikul Vidyalaya has set its foot strong in the education arena offering world-class education and a global perspective to its students right from Preschool to K-12. Founded in 2002, MRV is a registered Cambridge International School – IN885. It is amongst the top international schools in Mumbai offering Cambridge Primary, Cambridge Secondary, IGCSE and AS & A levels programmes. It is also a Cambridge authorized centre for delivering Cambridge International Diploma in Teaching and Learning (CIDTL). Designed for students between Preschool and K-12, the IGCSE programmes at MRV have an innovative, enriching and challenging curriculum that encourages independent thinking, open-minded and inquiry based approach to learning.
MRV, one of the top Cambridge International Schools in Mumbai also offers a globally renowned pre-primary/preschool learning programme from Playgroup to Sr. KG, affiliated to IEYC (International Early Years Curriculum) from Fieldwork Education, UK. With this, MRV is amongst very few preschools in India and proud to be one of the 2000 international schools of the world offering this curriculum for its pre-primary children.
With dynamic research and experiential learning models, state-of-the-art facilities, excellent educators, integration of co-curricular and extra-curricular activities, MRV is empowered by a mission to create responsible global citizens. At MRV, we believe that every child is unique; hence the basic premise of the curriculum is based on innovative teaching pedagogies. The aim is to stimulate every child's mind and cultivate a positive attitude. This also helps students right from preschool to K-12 to build a foundation for lifelong learning and ensures the harmonious growth of personality in them. Students are prepared to face the global challenges of the 21st century with confidence and capabilities. Thus at MRV, a top International School in Bandra, Mumbai, we nurture the custodians of our future by imparting to them the supreme wealth of knowledge.
MET Rishikul Vidyalaya offers: