Advanced Diploma in Mass Media (ADMM) - Journalism and Public Relations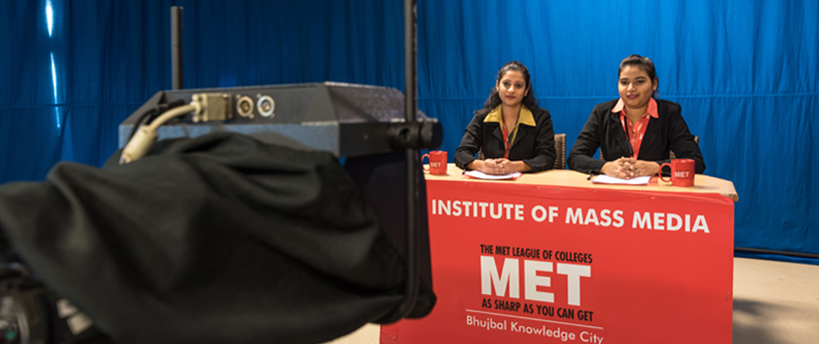 Digital technology has changed the way Journalism is practiced, even though the core function of investigation and reporting remains the same. At the same time, the Public Relations profession has come to its own, creating newer job opportunities. In the media world today, we have seen many Journalists and PR professionals interchanging their professions. This unique combined program explores the symbiotic relationship between both the professions, and helps students benefit from both the disciplines. The program is designed to give the media aspirants a thorough understanding of the principles and concepts, at the same time giving them a hands on training and exposing them to the real time business through live projects and internship opportunities during the program.. This fusion of disciplines gives an extra edge to the students, giving them an advantage, increasing their employability in the media world. This program is taught by PR professionals and working Journalists, training the students with the latest trends, multimedia and digital skills, and functionalities of the professions. This program is apt for both media and non-media graduates aspiring to for a career in the mass media profession. To mass media students this is an excellent program in Journalism and Public Relations to explore and develop their skill sets and then give it a finishing touch, adding on to the theoretical knowledge they have gained during their graduation, thus getting them ready for their upcoming professional journey.
Programme Overview
Advanced Diploma in Mass Media (ADMM) is a professional-level media training programme, including 2 certificates and Internship for immersive practical industry training, conducted over a period of 18 months.
ADMM - Journalism and Public Relations
Certificate in Introduction to Mass Media (CIMM)
Advanced Diploma in Mass Media (Module - 1) - Journalism & Public Relations
Internship
Advanced Diploma in Mass Media (Module - 2) - Journalism & Public Relations
Programme Highlights
Function driven pedagogy
IMC (Media Convergence Approach)
Lectures, Classroom Discussions & Role Plays
News Bulletins, Press Releases, PR Photo-shoots
Live Projects & Portfolios
Functional Visits, Assignments, Case Studies, Presentations & Evaluation 37
An insightful induction programme is held prior to the course commencement
Certificate in Introduction to Mass Media (CIMM) :

CIMM gives a foundation of mass media as a business. This certificate is based on the convergence approach and therefore relevant across the streams.

Advanced Diploma in Mass Media (Module - 1):

This specialization module in Journalism and PR practices, allows the students to gain a concrete perspective of the functional aspects of their chosen media profession. This PG course in media also helps students understand the business cycles of the media domain. It is aimed at creating resourcefulness, enhancing networking skills and encourages teamwork.

Industry Orientation (Internships):

The Module - 1 concludes at students taking up a two to three month internship where they are able to understand the uncertainties and business pressures learn the actual tricks of the trade and implement their classroom learnings to real -life situations.

Advanced Diploma in Mass Media (Module - 2):

This module is targeted towards bringing the students at par with standards set in the industry. The extensive focus is on implementation based learning. The students produce newspapers, magazines, news bulletins, PR dockets, and a complete portfolio along with a convergence project.

Career Services Support:

On successful completion of academic and internship evaluations, the Placement Cell assists students getting access to the best of career opportunities.
CIMM gives a foundation of mass media as a business. This certificate is based on the convergence approach and therefore relevant across the streams
Certificate in Introduction to Mass Media - Journalism & Public Relations

Course 1: Business Communication & Presentation Techniques
Course 2: Contemporary Marketing Management & IMC Foundations
Course 3: Indian Media Business - Advertising and Digital
Course 4: Indian Media Business - Entertainment
Course 5: Indian Media Business - News Media & Public Relations
Course 6: Media Research, Media Vehicles and Consumer Insights
Course 7: Design Thinking
Course 8: Event Management
Course 9: Media Laws and Ethics
Course 10: Studio and Camera Senitization
Course 11: Independent Study Courses

Advanced Diploma in Mass Media (Module - 1) - Journalism & Public Relations

Course 1: Journalistic Writing Skills
Course 2: PR Agency Management & Campaign Planning
Course 3: Integrated Brand Management
Course 4: Social Media & Influencer Marketing
Course 5: Print and Digital Journalism
Course 6 : Television and Radio Journalism
Course 7 : Talent Management, Talent PR & Corporate Communications
Course 8: Audio Skills
Course 9: Creative & MIS Tools
Course 10: Editing Sense
Course 11 : Audio Visual Content Creation

Advanced Diploma in Mass Media (Module - 2) - Journalism & Public Relations

Course 1: Digital PR, ORM & Sports Management
Course 2: Genres & Beats - PR
Course 3: Genres & Beats - Journalism
Course 4: Media Planning
Course 5: Magazine Writing
Course 6: Political, Investigative, Business & Financial Journalism
Course 7: IMC & Service Sector Marketing
Course 8: Documentary Films
Course 9: CRM, CSR and Crisis Communication
Course 10: Summer Internship Project and Viva Voce
Course 11: Portfolio Presentation and Capstone Project

Workshops & Power Packed Sessions

Script Writing Workshop
Instagram Reels Workshop
Creative Writing & Blogging Workshop
VFX Workshop
Enterpreneurship Skills
Innovations and Technologies
MET Institute of Mass Media is Located at