Advanced Diploma in Mass Media (ADMM) - Digital Marketing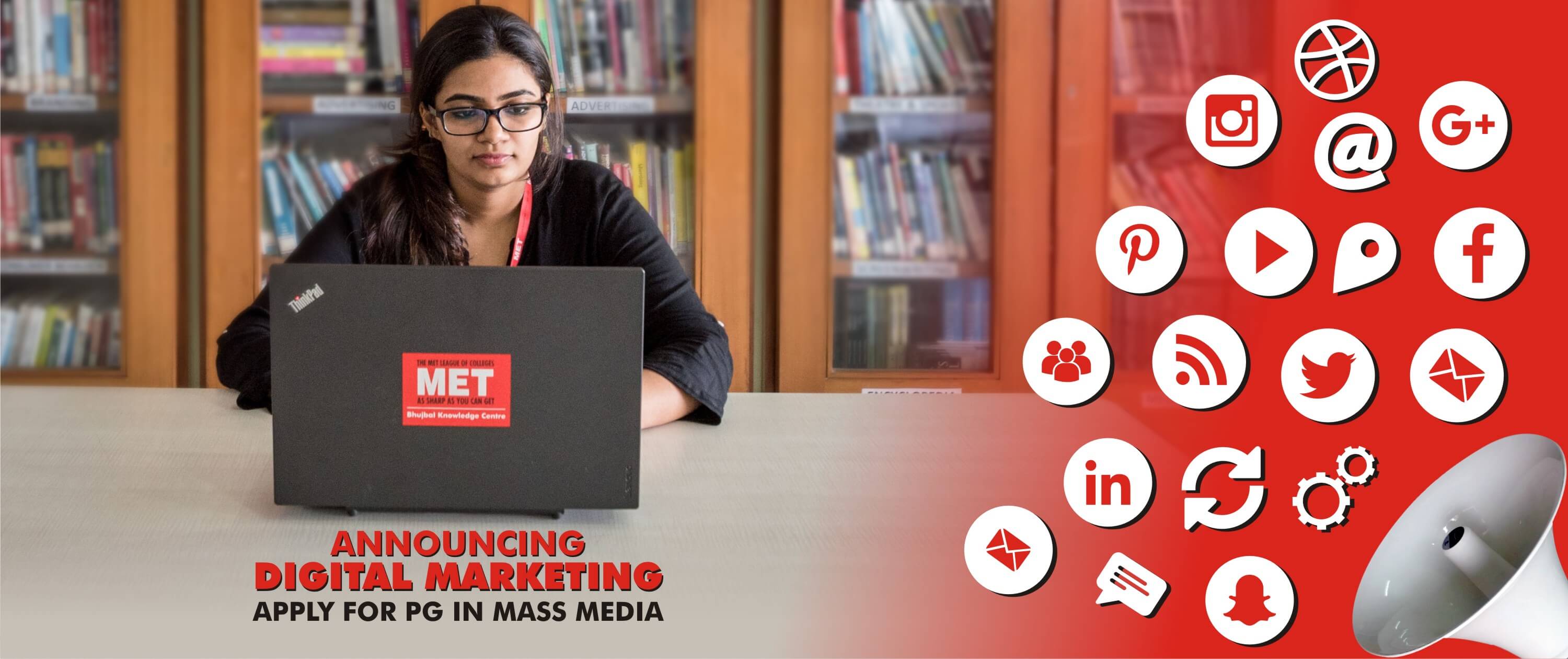 In India, Digital Media business is growing at the rate of 30%, which is highest across all business sectors. Today India has more than 700 million Internet users, projected to grow to over 974 million users by 2025. In FY20, the Indian digital segment grew by 35% due to upsurge in paid subscriber base across all OTT platforms.
The Advanced Diploma in Mass Media with specialization in Digital Marketing has a 360° approach, imparting conceptual training with intensive hands-on approach. This experiential pedagogy gives you an edge, making you employable and ready in the dynamic, fast-growing field of digital marketing.
Digital Media keeps not only growing rapidly, but is also a constantly evolving industry. The Digital Marketing Course curriculum is designed in such a manner that any new developments are immediately incorporated in to the curriculum, keeping you continuously updated and in sync with the industry.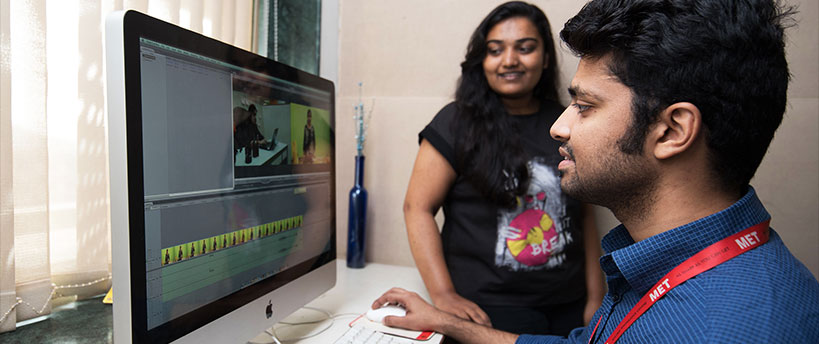 Programme Overview
Advanced Diploma in Mass Media (ADMM) is a three pronged certficate programme; each certificate duration being four to five months, which includes training and practical work and imbibed with an internship
ADMM – Digital Marketing
Certificate in Introduction to Mass Media (CIMM)
Diploma in Mass Media (DMM) – Digital Marketing
Advanced Diploma in Mass Media (ADMM) – Digital Marketing
Module Highlights
Function driven pedagogy
Digital Content Creation
Social Media Marketing
Lectures, Classroom Discussions & Role Plays
Live Projects, Showreels & Portfolios
Exposure to Google Certification & Email Marketing
Functional Visits, Assignments, Case Studies, Presentations & Evaluation
An insightful induction programme is held prior to the course commencement.
Certificate I - Certificate in Introduction to Mass Media (CIMM):

CIMM gives a foundation of mass media as a business. This certificate is based on the convergence approach and therefore relevant across the streams.

Certificate II - Diploma in Mass Media - Digital Marketing:

This specialization certificate allows the students to gain a concrete perspective of the functional aspects of their chosen vertical and understand the business cycles of the media's used to run the domain well. It is aimed at creating resourcefulness, enhancing networking skills and encourages teamwork.

Industry Orientation (Internships):

The DMM Certificate concludes at students taking up a two to three internship where they are able to understand the uncertainties and business pressure learn the actual tricks of the trade and implement their classroom learnings to real situations.

Advanced Diploma in Mass Media - Digital Marketing:

This certificate is targeted towards bringing the students at par with standards set in the industry. The extensive focus is on implementation based learning. The students also create their show reels and portfolios.

Career Services Support:

On successful completion of academic and internship evaluations, the Placement Cell assists students getting access to the best of career opportunities.
CIMM gives a foundation of mass media as a business. This certificate is based on the convergence approach and therefore relevant across the streams
Certificate I

Certficate Name : Certificate in Introduction to Mass Media (CIMM):

Communication Concepts
Overview to Indian Media Business
Contemporary Marketing and Management
Writing for Media
Business Communication and Presentation Techniques

Practical Sessions

Essentials of Graphic Designing
Camera & Studio Sensitization
Video Editing Skills
Sound Recording & Editing Orientations

Short Modules

Basics of Media Research
Consumer Insights & Media Vehicles
Design Thinking Foundations
Principles of Digital Marketing

Certificate II

Certificate Name: Diploma in Mass Media - Digital Marketing (DMM):

Integrated Brand Management
Website Designing
Writing for Digital Platforms
Account Management & Planning
Event Management
Influencer & Affiliate Marketing

Digital Media Utilities

Essential Terminologies
SEO Concepts& Keywords
Pitch Decks & Webinars
Blogging & ROI

Social Media Marketing

Facebook, Instagram & WhatsApp
Twitter & LinkedIn
SMS Marketing
YouTube & Video Marketing
Mobile Marketing
Snapchat and Pinterest (Overview)

Short Modules

Ecommerce Management Foundations
Digital PR & Online Reputation Management
Media Economics
UX-UI Wire-Frame Orientations

Certificate III

Certificate Name: Advanced Diploma in Mass Media - Digital Marketing (ADMM):

Integrated Marketing Communications
Search Engine Optimization
Search Engine Marketing
Content Marketing
Email Marketing
Digital Media Planning
Google & Web Analytics
Google Ad Words, AdSense, Display Orientations
Portfolio & Show Reel Presentation

Short Modules & Workshops

Understanding Cyber Laws
Customer Relationship Management
Fashion, Luxury, Retail & Services Marketing
Entrepreneurship Skills
Corporate Social Responsibility