Advanced Diploma in Mass Media (ADMM) - Advertising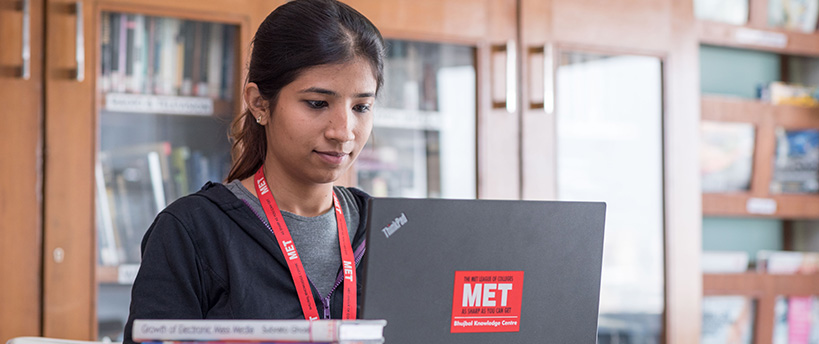 Advertising is persuasive communication at its best. The advertising profession dynamic, fast paced and ever changing. In the advertising world, ad styles are dynamic and keep changing based on the need of the times and tastes of the audiences. Today, advertising requires a transmedial story telling approach, ads that cater to all media - Mainline and Digital Advertising, Radio, Films, Television, Events, PR, Talent Management and Print media. Today, mass media and advertising courses provide a good understanding of the theory. However, the industry demands a practical approach, which this program in Advertising provides. This programme is designed to give PG students of advertising an edge by providing the functional synergies and knowledge required to sustain in industry dynamics. The programme structure also takes into account that the advertising profession is a demanding service sector, providing value to demanding professional clients. Located in the heart of the city of Mumbai, the MET Institute of Mass Media approaches advertising training with a practical, hands-on approach. Taught by top professionals from the advertising industry, students of this advertising course are fully prepared to take on the industry.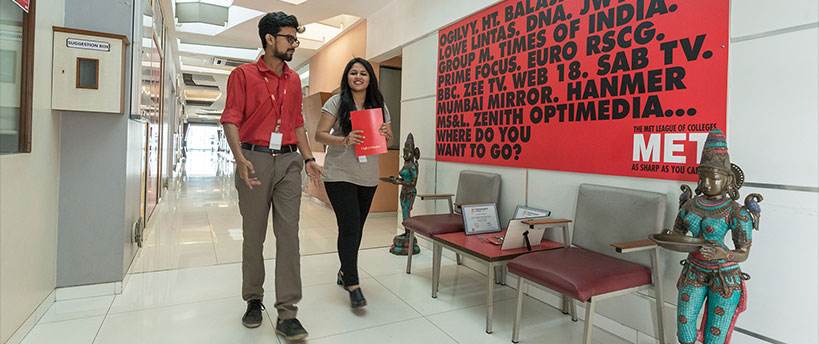 Programme Overview
Advanced Diploma in Mass Media (ADMM) is a professional-level media training programme, including 2 certificates and Internship for immersive practical industry training, conducted over a period of 18 months.
ADMM – Advertising:
Certificate in Introduction to Mass Media ( CIMM)
Advanced Diploma in Mass Media (Module - 1) – Advertising
Internship
Advanced Diploma in Mass Media (Module - 2) – Advertising
Program Highlights
Business & Function driven pedagogy
IMC (Media Convergence Approach)
Lectures, Classroom Discussions & Role Plays
Live Projects & Portfolios
360 Degree Campaigns and Television Commercials
Functional Visits, Assignments, Case Studies, Presentations & Evaluations
An insightful induction programme is held prior to the course commencement
Certificate in Introduction to Mass Media (CIMM):

CIMM gives a foundation of mass media as a business. This certificate is based on the convergence approach and therefore relevant across the streams. Students are introduced to the media business, basics in production, writing skills, and concepts of all forms of media.

Advanced Diploma in Mass Media (Module - 1):

This specialization certificate allows the students to gain a concrete perspective of the functional aspects and understand the business cycles of the advertising profession . It is aimed at creating resourcefulness, enhancing networking skills and encourages teamwork. This diploma takes students deeper in the advertising course, giving them deeper insights into the world of advertising.

Industry Orientation (Internships):

The Module - 1 concludes with students taking up a two to three month internship where they are able to understand the uncertainties and business pressure and learn the actual tricks of the trade while implementing their classroom learnings to real-life situations.

Advanced Diploma in Mass Media (Module - 2):

This certificate is targeted towards bringing the students at par with standards set in the industry. The extensive focus is on implementation based learning. The students create advertisements in all media formats, learning trans medial communication, create their own show reels and portfolios.

Career Services Support:

On successful completion of academic and internship evaluations, the Placement Cell assists students getting access to the best of career opportunities.
CIMM gives a foundation of mass media as a business. This certificate is based on the convergence approach and therefore relevant across the streams
Certificate in Introduction to Mass Media (CIMM)

Communication Concepts
Overview to Indian Media Business
Contemporary Marketing and Management
Writing for Media
Business Communication & Presentation Techniques

Practical Sessions

Essentials of Graphic Designing
Camera & Studio Sensitization
Video Editing Skills
Basics of Audio Production

Media Essentials

Basics of Media Research
Consumer Insights & Media Vehicles
Design Thinking Foundations

Advanced Diploma In Mass Media (MODULE - 1) - ADVERTISING

Integrated Brand Management
Advertising Research
Creativity in Communication
Account Management & Account Planning
Social Media Marketing
Public Relations & Talent Management
Event Management
Radio Advertising
Media Laws & Advertising Ethics

Media Essentials

Media Economics
Customer Relationship Management
Corporate Social Responsibility
Evaluated Internship

Advanced Diploma In Mass Media (MODULE - 2) - ADVERTISING

Film & Television Advertising
Direct Marketing & Ad Sales
Media Planning & Buying
Outdoor Communications
Print Advertising
Rural Advertising
Integrated Marketing Communications

Power Packs / Super Sessions

Fashion, Luxury, Retail & Services Marketing
Entrepreneurship Skills